"Influencers are DREAMERS. They are LEADERS with a VISION." The tech business has traditionally been controlled by men, but these amazing female influencers are changing that. Even though there are many excellent women working in this sector, they are frequently underrepresented or overlooked. For this Women Equality Day on August 26, we wanted to highlight and honour all the incredible Women in Tech influencers. We've compiled a list of the top Women in Tech from LinkedIn & Twitter to provide daily inspiration and keep you up to date.
People across the world are increasingly turning to social media platforms for exploration, education, and inspiration as we continue to distance ourselves from one another. Even in today's advanced, twenty-first-century environment, statistics about women in technology can be depressing. But there are plenty of female tech influencers to look up to for inspiration. These women have been slowly but steadily challenging the stereotype that the computer business is a male-dominated environment where women cannot succeed.
We've featured top 50 Women in Tech Influencers who have built a name for themselves in diverse realms of technology. We're taking a closer look at their backgrounds, career choices, and accomplishments because their work is motivating.
A quick disclaimer: This list is completely based on individual contribution in the industry and recent social activities. Do you think we missed someone – Suggest today to participate in upcoming lists.
Top 50 Women in Tech Influencers to Follow 2021 – List to Check

Top 50 Women in Tech Influencers to Follow 2021
1. Allie K. Miller
Allie K. Miller is the Head of AI Growth for Startups and Venture Capital at Amazon (AWS), advancing the greatest AI companies in the world. Allie was recently named Forbes and AI Summit's "AI Innovator of the Year", LinkedIn Top Voice for Technology, and serves as National Ambassador for AAAS and Advancing Women in Product. Previously, Allie was the youngest-ever woman to build an AI product at IBM—spearheading product development across computer vision, conversation, data, and regulation. Outside of work, Allie has spoken about AI and field diversity around the world, addressed the European Commission, drafted national AI strategies, and created eight guidebooks to educate businesses on how to build successful AI projects. Allie is based in San Francisco and holds an MBA from The Wharton School and a BA in Cognitive Science from Dartmouth College.
"Biggest piece of advice I give is to build a personal board of directors."
LinkedIn | Twitter | Instagram
---
2. Tamara McCleary
Tamara is interested in algorithmic governance, as well as social, moral, ethical, and spiritual implications of genetic engineering. At the Harvard Divinity School I am exploring existential topics, apocalyptic literature, and the future of Religion and God in a world of life extension technologies, synthetic life, artificial general intelligence, and our dependence upon machines creating a transhumanist and posthumanist existence. In addition to my scholarly pursuits, I am an advisor and crew member for the Proudly Human Off-World Projects as well as founder and CEO of Thulium.
---
3. Cassie Kozyrkov
Cassie is a data scientist and leader at Google with a mission to democratize Decision Intelligence and safe, reliable AI. I bring a unique combination of deep technical expertise, world-class public-speaking skills, analytics management experience, and ability to lead organizational change. I've provided guidance on more than 100 projects and designed Google's analytics program, personally training over 20000 Googlers in statistics, decision-making, and machine learning.
---
4. Samantha Kelly
Samantha is a Twitter expert, author, community builder and founder of the Women's Inspire Network – a global online network for Female entrepreneurs. Named as one of the top marketing influencers on many global lists, Samantha is a verified account on twitter and she has an engaged following of 60k. She is an international speaker.  She is an expert on Building brand advocates, engagement and social audio especially Twitter Spaces.
"Now is the time to shine online and inspire the next generation to show them anything is possible by sharing our knowledge, adding value and showing up consistently."
Blog: How to create an awesome webinar for your audience
Podcast: How to be Confident on Camera
LinkedIn | Twitter | Instagram
---
5. Kate Strachnyi
Kate Strachnyi is the Founder of DATAcated, providing brand amplification for companies focused on artificial intelligence (AI), machine learning (ML), and data science. She's also the founder of the DATAcated Academy – delivering training on data visualization best practices. She's delivered several courses on data storytelling, dashboard techniques and visual best practices. Additionally, Kate is the host of the DATAcated Conference and the DATAcated On Air Podcast. Kate was appointed a LinkedIn Top Voice of Data Science & Analytics in 2018 & 2019. She's the mother of two girls and enjoys running ultra-marathons and obstacle course races.
"We live once; take on the difficult challenges and do what you love."
Podcast: DATAcated on AIR
---
6. Rana el Kaliouby
Rana is an Egyptian-American scientist, entrepreneur, author and AI thought leader on a mission to bring emotional intelligence to our digital world. Affectiva is now a Smart Eye company. In June 2021 Smart Eye acquired Affectiva. I am now the Deputy CEO of Smart Eye and will team with Martin Krantz, Smart Eye's CEO to scale the company to a global AI powerhouse. A key priority will be to drive AI innovation with a focus on ethics, diversity, equity and inclusion. And, continue to evangelize Emotion AI and its applications in automotive Interior Sensing, Media Analytics and beyond.
---
7. Aishwarya Srinivasan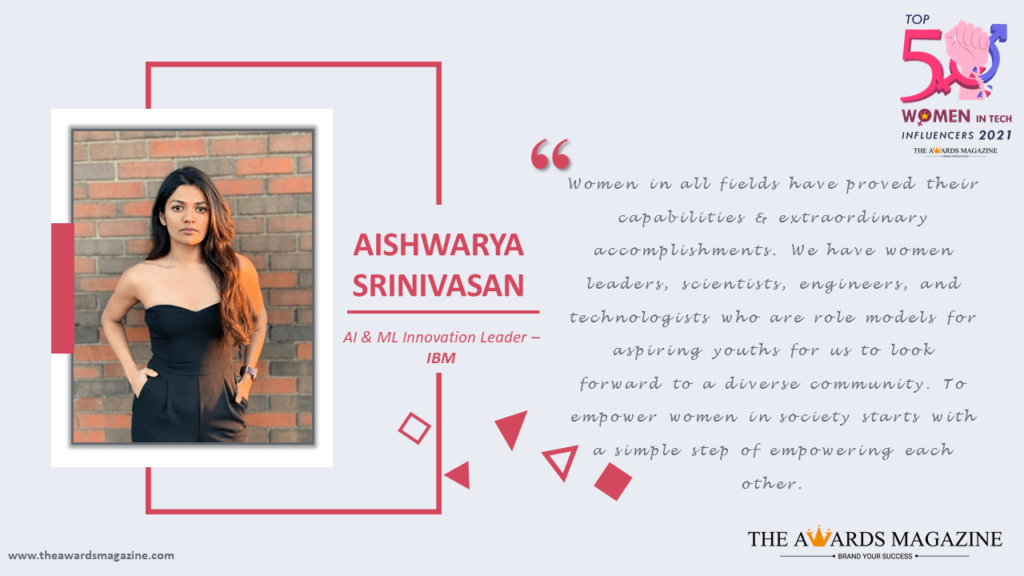 Aishwarya Srinivasan is an AI & ML Innovation Leader at IBM Data & AI. She works cross-functionally with the product team, data science team and sales to research AI use-cases for clients by conducting discovery workshops and building assets to showcase the business value of the technology. She is an advocate for open-source technologies; she was a developer advocate at PyTorch Lightning and previously a contributor to Scikit Learn. She holds a post-graduate in Data Science from Columbia University.  She is an ambassador for the Women in Data Science community. She has a huge follower base on LinkedIn and actively organizes events and conferences to inspire budding data scientists. She has been spotlighted as a LinkedIn Top Voice 2020 for Data Science and AI, which features Top 10 Machine Learning influencers across the world.
"Women in all fields have proved their capabilities and extraordinary accomplishments. We have women leaders, scientists, engineers, and technologists who are role models for aspiring youths for us to look forward to a diverse community. To empower women in society starts with a simple step of empowering each other."
Video: AI Synergy
---
8. Helen Yu
Helen Yu is the founder and CEO of Tigon Advisory and WSJ Best Selling Author. She drives growth for tech companies from start-ups to global titans like Oracle and Adobe, and helps CEOs achieve multibillion-dollar revenue growth and record profitability. She's a board advisor to fast-growth SaaS companies and is on the board of the Global Cybersecurity Association. She's a top Twitter influencer with a 10M+ weekly reach and was ranked a Top 10 thought leader by Thinkers 360, and a top 10 digital transformation influencer by IBM. She's spoken at SXSW, TiECon, DMS, and Money2020. An avid adventurer who trekked to Mt. Everest base camp and ice-climbed glaciers, her book Ascend Your Start-up: Conquer the 5 Disconnects to Accelerate Growth won first place at the New York book festival in addition to achieving WSJ Best Seller. Learn more at tigonadvisory.com.
"An Empowered Woman Turns Pain into Power and Wounds into Wisdom."
Book: Ascend Your Start-up: Conquer the 5 Disconnects to Accelerate Growth was released on May 25, 2021.  It won first place at the New York book festival in addition to achieving WSJ Best Seller and Amazon best seller.
Podcast: CXO Spice Talk was launched on March 26, 2021 with Microsoft.  It is a podcast for industry leading experts to share their point of view on innovations and discuss how to make it real.
Interview Video:
---
9. Linda Grasso
Founder & CEO @DeltalogiX, the Digital Transformation Blog focused on Knowledge Translation for Business Leaders.
Engineer Fascinated by Innovation.
Digital Creator & Tech Influencer, w/ purpose of driving Value to Brands.
Sustainability Advocate #EmpoweringWomen.

"I choose to challenge inequality and be committed to empowering women. We can build a better future leaving no one behind."
Blog: Women In Tech — Successes & Challenges
Video: The Do's and Dont's for the Digital Transformation Success
LinkedIn | Twitter | Instagram
---
10. Sandy Carter
Sandy Carter is Vice President, Public Sector Partners and Programs at AWS. In this role, she is responsible for driving next-generation partnering. Her responsibilities include evolving partner models to intensify partner innovation, AWS cloud adoption and creation of mission critical cloud solutions with partners across public sector. She is focused on growing the partner ecosystem as a major driver for public sector and contributing significantly to the success of public sector customers. She previously built an enterprise workload team as the Vice President of Enterprise Workloads at AWS focused on migration and modernization through containers and serverless.
"Confidence isn't walking into a room and thinking you're better than everyone, it's walking in and not having to compare yourself to anyone at all."
Book: Extreme Innovation: 3 Superpowers for Purpose and Profit
Blog: Raising the bar with inclusion, diversity, and equity: Creating an environment for women to thrive in tech
Video: Three Superpowers Needed for Future Innovation
---
11. Sally Eaves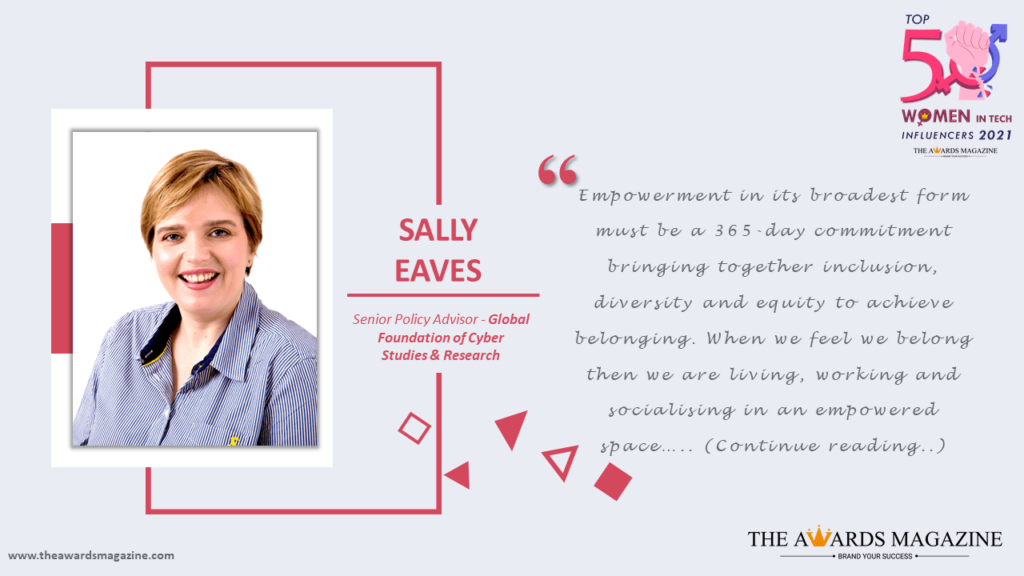 Prof. Sally Eaves is Chair of Cyber Trust and Senior Policy Advisor for the Global Foundation of Cyber Studies & Research and CEO of Aspirational Futures which enhances inclusion and diversity in education and technology. A highly experienced Chief Technology Officer, Professor in Advanced Technology and Global Strategic Advisor, Sally is an International Author and Keynote Speaker on Digital Transformation (AI, Cloud, IoT, 5G, Data Science, Cyber Security, Blockchain) alongside Culture, Skills, Sustainability and Social Impact. Her new book 'Tech For Good' is released in March 2022.
"Empowerment in its broadest form must be a 365 day commitment bringing together inclusion, diversity and equity to achieve belonging. When we feel we belong then we are living, working and socialising in an empowered space where views, beliefs and values are integrated and consequently, personal growth and collective innovation thrives – creating shared value for business and society too!"
Podcast: Tomorrow's Tech Today
LinkedIn | Twitter | Instagram
---
12. Cathy Hackl
Cathy Hackl is a leading tech futurist and globally recognized business leader specializing in augmented reality (AR), virtual reality (VR), & spatial computing. She is one of LinkedIn's top technology voices and a champion for diversity. Hackl has worked with some of the biggest names in tech including Amazon Web Services (AWS), Magic Leap, and HTC VIVE. She leads the Futures Intelligence Group, a futures research & consulting firm that works with clients in tech, fashion, media, government, and defense implementing innovation strategies, strategic foresight, and emerging technologies. She's also a top Forbes Contributor. Hackl has been dubbed the Godmother of the metaverse for her work leading the way into the future of the internet.
"Don't be scared to share your achievements publicly! Stand proud of what you've accomplished and don't silence your voice or your excitement."
Book: The Augmented Workforce
LinkedIn | Twitter | Instagram
---
13. Elise Quevedo
Author, speaker, advisor, and storyteller. She writes for various magazines and as a global thought leader, has collaborated with Fortune 500 companies such as Amazon, Huawei, eBay, and Paypal.
Known as "The Digital Ghost Queen" for her behind-the-scenes work, Elise has inspired audiences across the globe and spends most of her time helping businesses and individuals from C-Level executives to Hollywood stars thrive in cyberspace.
She enjoys making sure people understand the importance of keeping their online activities interactive and with a human feel. She created the SMEQ (Social Media Emotional Quotient), which is the art and influence of creating, attracting, and building better business relationships through digital media.
"The key as a woman is to speak up and be heard, never allow anyone to dim your inner light as we all shine bright in our own unique way."
Book: "Creating a Kick Ass Attitude" available on all international Amazon Stores.
Video:
LinkedIn | Twitter | Instagram
---
14. Dr Efi Pylarinou
Efi Pylarinou is the No.1 Global Woman Influencer in Finance & the Data conversation by Refinitiv 2019 & 2020. A seasoned Wall Street professional & a recognized technology Thought Leader on innovation topics. She has over 187,000+ followers on Linkedin and 14,000 on Twitter. Join her on the social platforms https://linktr.ee/Efiglobal. She is working at the intersections of business development, marketing, and PR, supporting her clients in their campaigns and their earned media initiatives.
"The future of our TechnoSociety has to be female."
Book: "the Theories of Change"
Video:
---
15. Lisa Seacat DeLuca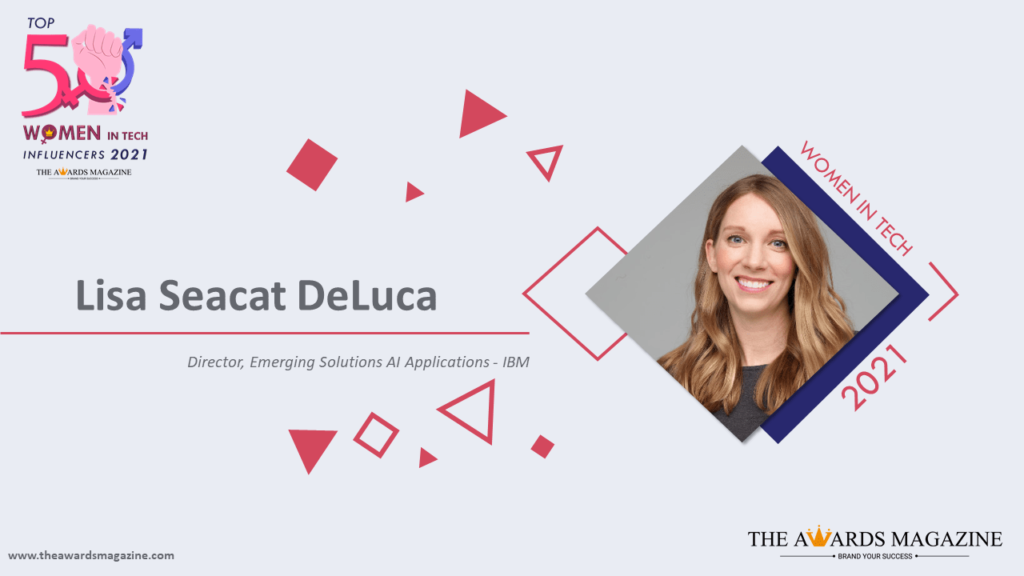 Lisa Seacat DeLuca is the Director & Distinguished Engineer of Emerging Solutions within the AI Applications business unit within IBM currently focused on modernizing the Weather Business Solutions and the Aviation portfolios. Lisa holds a Masters of Science in Technology Commercialization from the University of Texas McCombs School of Business, and a Bachelors of Science in Computer Science from Carnegie Mellon University with minors in Business Administration and Multimedia Productions.
---
16. Nicky Verd
Nicky
Verd is an International Keynote Speaker and leading thinker on driving innovation and digital transformation through personal disruption. She is a show-stopping inspiration and a voice for those who yearn to recreate themselves and discover new opportunities in the digital era.
Nicky
Verd is the Author of the hit book "
Disrupt Yourself Or Be Disrupted
." She is also the Brand Ambassador for Southern Africa Startup Awards.
LinkedIn | Twitter | Instagram
---
17. Jo Peterson
Jo Peterson is the Vice President of Cloud and Security Services for Clarify360. Her engineering team focuses on cloud optimization, cloud security and security as a service offerings. Jo is a trusted advisor in the security space, providing an agnostic metric-driven sourcing service without any consulting fees. Jo is followed by an audience of over 60,000 on Twitter and has over 10,000 followers on Linked In. She is currently in process on her CCSP and CISSP. She is an Air Force vet and the founding Co-Chair of cloudgirs.org.
---
18. Dalith Steiger
Dalith Steiger studied mathematics at the University of Zurich, co-founded the award-winning AI start-up SwissCognitive, and the CognitiveValley Foundation. Dalith was born in Israel and grew up in Switzerland. She is a global AI advisor and speaker, sharing her extensive knowledge and experience in the field of AI. She is Member of various Advisory Councils and Boards of Directors and sits in the jury of the Digital Economy Award as well as the START Hack, she is an advisor at Kickstart Innovation, a mentor at the Founder Institute, and teaches AI & Machine Learning at the Applied University of Luzern. Besides her drive for cognitive technologies, she is also a loving mother of two teenage girls, a passionate mountain biker and a big fan of high-heel shoes.
Video: https://twitter.com/SwissCognitive/status/1334579431160078336?s=20
---
19. Sarah-Jayne Gratton
Dr Sarah-Jayne Gratton is a leading technology evangelist, specialising in emerging technologies and covering trends in artificial intelligence, machine learning, IoT, agritech, digital transformation and smart cities. Her clients include global technology giants Siemens, Ericsson, IBM, Vodafone and Oracle. She is one of the top 100 Global Thought Leaders, the Host of Tech Uncorked Podcast and the Editor in Chief of Agritech Future Magazine.
"We must instil in our future women leaders the belief that, in accepting their weaknesses as girls, they foster their future strengths and compassion as adults."
Podcast: https://techuncorked.buzzsprout.com/
Books: https://www.grattongirl.com/books
---
20. April Rudin
April Rudin the founder of The Rudin Group, a global wealth marketing firm (since 2008) specializing in creating marketing solutions for multi-family offices, wealth management firms, RIA's, hedge funds, private banks, private equity groups and other financial services firms who want to be visible in the UHNW/HNW space. Expertise in multi-generational strategy, messaging and customized programs including compliant content creation, social/digital media and more traditional PR/media marketing to maximize your firm's visibility and thought leadership among current and future UHNW/HNW clients. UHNW/HNW inbound lead generation expertise.
---
21. Peggy Tsai
Peggy Tsai is Vice President of Data Solutions at BigID where she oversees the data governance product and strategy. Peggy has 20  years of practitioner experience in data management and governance in the financial services industry. Prior to BigID, she worked in various leadership roles at Morgan Stanley, AIG and S&P Global. In addition, she co-hosts a data and technology podcast called The Data Transformers. She is also a founding member of the Women Leaders in Data & AI, Global Events Co-Lead for EDM Council's Women's Data Professionals Forum as well as an advisor to several tech start-ups.
"At the end of the day, I want my success to be judged by not only what I know but who I helped and inspired along the way."
Podcast: Data Transformers
---
22. Chelsea L. Andrews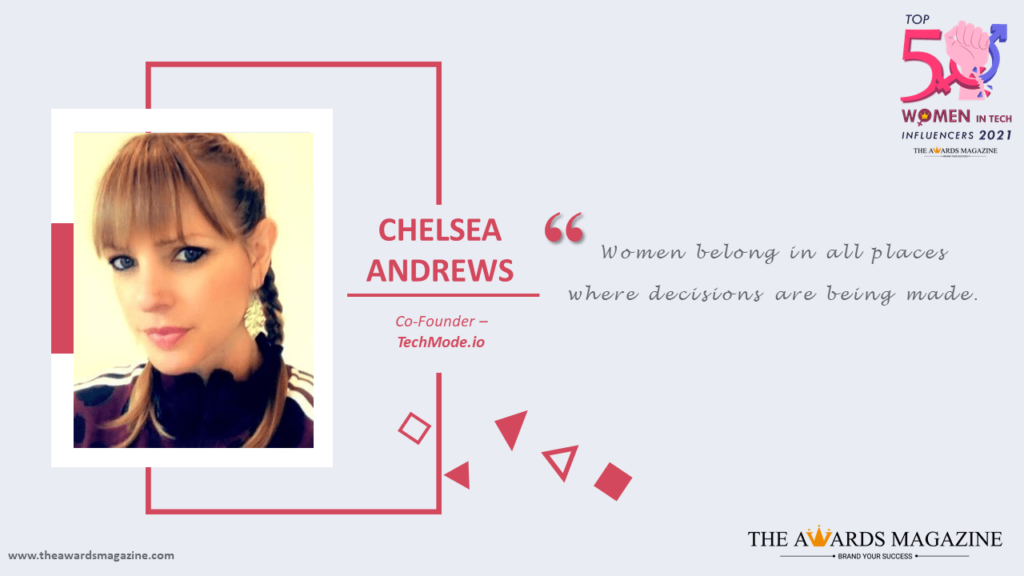 As a Co-Founder of TechMode, I work with top tech influencers and Fortune 500 companies to strategize, plan and implement #winning digital marketing campaigns. We work exclusively in the tech industry and specialize in brand ambassador and B2B influencer programs, brand amplification, and thought-leadership content creation. I'm honored to have been recognized as a top tech influencer by a variety of organizations such as Onalytica, Insight.Tech, Awards Magazine and more.
"Women belong in all places where decisions are being made" – Ruth Bader Ginsburg.
Video: LinkedIn Creator Mode
---
23. Catherine Adenle
Catherine Adenle is the Director Employer Brand at Elsevier, a global leader in information and analytics helping researchers and healthcare professionals advance science and improve health outcomes. Catherine is also the founder of Catherine's Career Corner, an online career advice hub. (https://catherinescareercorner.com/)
She's a well-known change, tech and career blogger. A tech enthusiast with a good following on Twitter, Catherine tweets and blogs about technology.
She believes that Artificial Intelligence (AI) and Machine Learning (ML) will impact the future of every industry and every human being. She thinks these technologies will act as the main drivers of emerging technologies like civic tech, quantum computing, ecological modernization, robotics, and others for the foreseeable future. She also thinks that AI and ML are poised to have major effects on sustainability, climate change, and environmental issues on a grander scale. However, she believes that the advancement of cybersecurity will be vital in ensuring safety and privacy online. "In this new technological age, cybersecurity is of greater importance than it has ever been before because the entire globe is now involved and connected online," she said. With a good following on Twitter and LinkedIn, she's cited as one of the top 20 AI Influencers, Top 50 Influencers for Women In Tech and Top 100 Global Thought Leaders and Influencers to follow.
"Women are now more driven than ever. They have empowered themselves in various ways and are highly capable. With these capabilities, they will continue to shape and mould the world. They will lead nations, stand up for human rights and run the world's top tech organisations. There's no denying the phenomenal power of women." – Catherine Adenle.
---
24. Jen Stirrup
Jennifer Stirrup is the Founder and CEO of Data Relish, a UK-based AI and Business Intelligence leadership boutique consultancy delivering data strategy and business-focused solutions. Jen is a recognized leading authority in AI and Business Intelligence Leadership, a Fortune 100 global speaker, and has been named as one of the Top 50 Global Data Visionaries, one of the Top Data Scientists to follow on Twitter and one of the most influential Top 50 Women in Technology worldwide.
"Let's be our own role models and forge our own paths while helping each other to forge their own paths."
LinkedIn | Twitter | Instagram
---
25. Theodora Lau
Theodora (Theo) Lau is the founder of Unconventional Ventures, a public speaker, and an advisor, whose work seeks to spark innovation to improve consumer financial security. She is the co-author of Beyond Good, and co-host of One Vision, a podcast on fintech and innovation. She is also a regular contributor for top industry events and publications, including Journal of Digital Banking, Harvard Business Review, and Nikkei Asian Review.
"Anyone with great ideas should have a chance to succeed, regardless of where they are from."
Book: Beyond Good: How Technology is Leading a Purpose-driven Business Revolution
---
26. Marsha Collier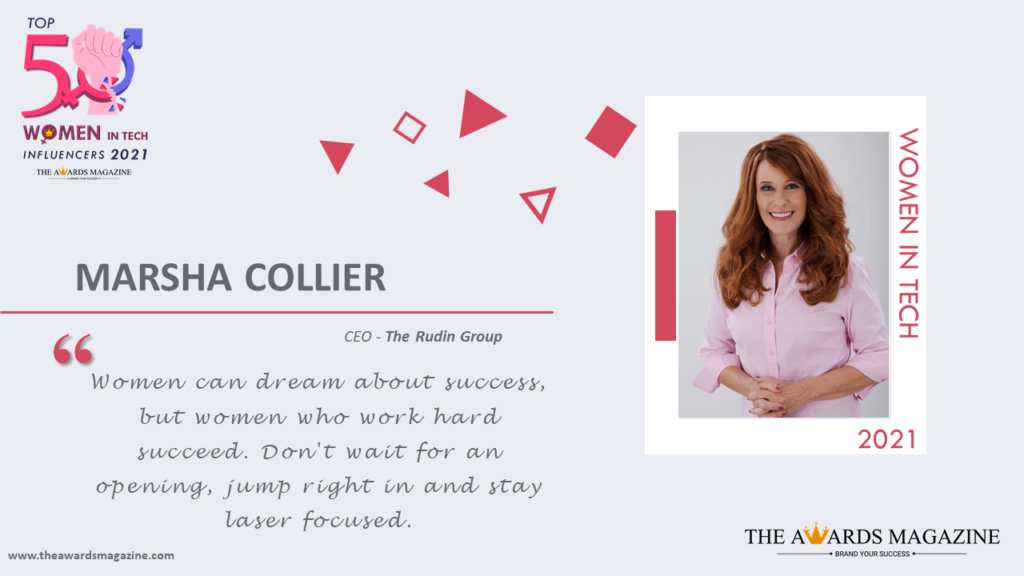 Marsha Collier is an award-winning author who's sold over a million books (starting with eBay For Dummies); host of the Computer & Technology Radio Podcast and International speaker specializing in technology.
Women can dream about success, but women who work hard succeed. Don't wait for an opening, jump right in and stay laser focused.
Book: Facebook, Twitter, & Instagram For Seniors For Dummies
LinkedIn | Twitter | Instagram
---
27. Paula Piccard
NewYork-er, Women in Tech & Cybersecurity Advocate. Digital Marketing Guru & Social Media Influencer. A strong voice in the field of cybersecurity awareness, Paula believes that we must keep the public informed on the latest digital transformation news and educate on how to protect themselves and stay safe online.
"Don't let anyone define who you are or what you can do and never stop learning."
Blog: The Charter of Trust: Siemens Global Cybersecurity Initiative
---
28. Elitsa Krumova
Elitsa Krumova is a recognized professional both in Marketing and Advertising and in the IT industry. Her diverse educational background, with BA of Honours in Advertising and Marketing Communications from London Metropolitan University, MA in Creative Advertising from Southampton Solent University and Bachelor's Degree in IT and Computer Sciences, is her unique tool which enables her to foresee the trends not only in consumer behaviour and technology, but also to predict the future projections of current tendencies in society and life in general. Currently, she is a professional tech influencer, striving to educate society about existing and emerging technologies. Knowledge translation is her mission.
"Women are gentle and fair and such is their power. It's time for more power in women's hands, so that the world can become a more pleasant place to live in."
Blog: Tech Trends in 2021
LinkedIn | Twitter | Instagram
---
29. Audrey DeSisto
While her high school friends attended concerts, Audrey DeSisto worked the night shift at Polaroid. She studied technology, marketing, and science and completed a chemical engineering program as a young woman. After Polaroid, DeSisto became a technology consultant in Boston before joining IBM as a merger and acquisitions team member. She later became a freelance management consultant for fortune 500 companies. She founded Digital Marketing Stream in 2016, and her company branding strategy includes a strong emphasis on tech. DeSisto studied at Boston University and Harvard. Today, her work includes insightful tech articles on her website and many contributions to CIO.com.
"The key to a woman's success is resilience, courage and spark."
Blog: Digital Marketing Stream
LinkedIn | Twitter | Instagram
---
30. Stacey Higginbotham
After two decades as a technology journalist, Stacey can now explain how the internet of things works from the sensors to the cloud. I write about the industrial internet of things, how businesses are transforming their operations with data, and spend hours testing out smart home gadgets. I combine tech with business realities so entrepreneurs, investors and business leaders can understand what's going on and how to profit from it.
---
31. Alexis Kerr
Alexis Kerr is Vice President – Mahogany Brand Leader for Hallmark Cards, Inc. In her role, Alexis oversees Hallmark's Mahogany brand, a brand that provides culturally relevant, engaging social expression experiences for Black consumers, serving as a beacon for what is most beloved and valued about Black culture. Alexis is accountable for evolving Mahogany into a unique business, driving all aspects of what the brand's consumers see and experience. expanding the brand into new spaces, deepening our relationships with existing customers, and attracting new and diverse audiences.
---
32. Joanne Moretti
Professionally, Joanne has been successful because of 2 things. Thing 1) I've learned from my mistakes. Thing 2) Leadership is not a title. At its core, Leadership is about genuine passion, a passion so real it drives actions, actions so clear they build trust & trust so strong it drives outcomes. Those outcomes build equity into every brand I've served, both employers & customers.
---
33. Tina Gravel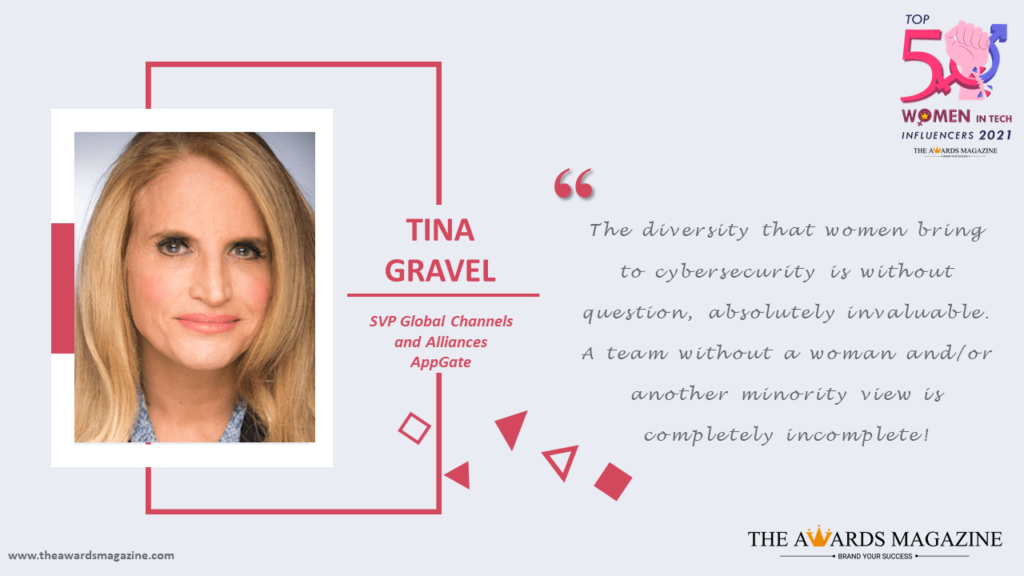 An award-winning executive with more than 28 years in information technology. Tina Gravel is SVP Global Channels and Alliances at Appgate, a secure access software and services company. Tina is known as a cybersecurity influencer and has received countless awards for her work;  Top Gun 51 Channel Chief by Channel Online in 2019, Women of the Channel (7 years). CRN Top Executive of the Channel (3 years). In June 2020, Tina was named #58 on a Global list of IIOT influencers by Onalytica and in August of 2021 as an honoree on the Channel Futures DE & I 101 list.
 "The diversity that women bring to cybersecurity is without question, absolutely invaluable. A team without a woman and/or another minority view is completely incomplete!"
Book: Leading Through the Pandemic: Unconventional Wisdom from Heartfelt Leaders
---
34. Danielle Guzman
As a leader, Danielle work with people where they are, figure out their needs and show up prepared to add value to their lives. She loves what she does – whether she is engaging in conversation around the future of work, building employee advocacy communities that drive business impact, working with Influencers, coaching individuals on personal branding, practicing yoga or being a mom and a great cook.
---
35. Tyler Cohen Wood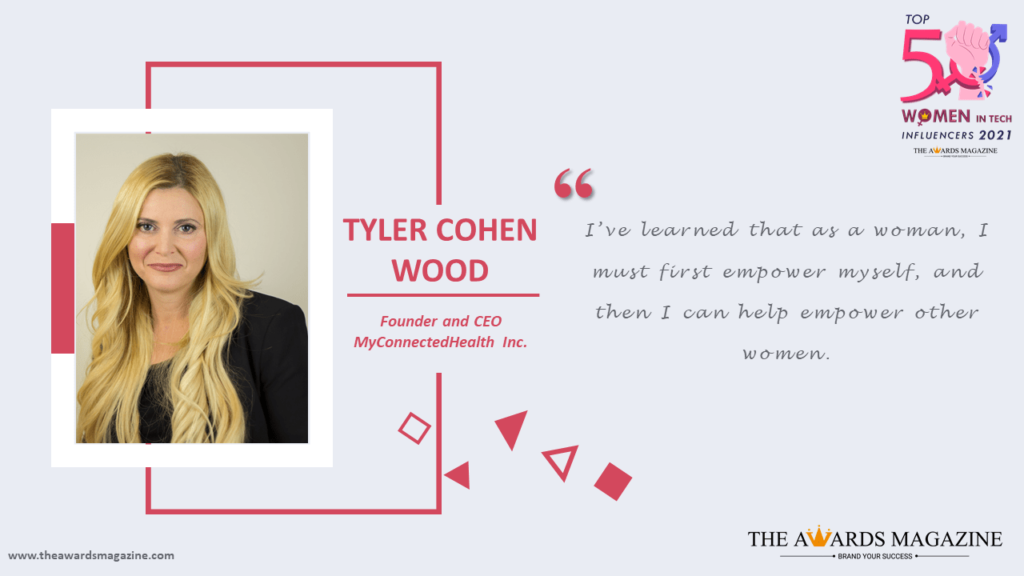 Tyler Cohen Wood is an internationally recognized cybersecurity authority, former US Defense Intelligence Agency (DIA) Cyber Deputy Division Chief, Keynote Speaker, author of Catching the Catfishers: Disarm the Online Pretenders, Predators, and Perpetrators Who Are Out to Ruin Your Life (The Career Press). She is the Founder and CEO of MyConnectedHealth Inc., a unique global health care platform that connects the best of technology (AI, ML) and healthcare, to strategically diagnose and treat disease. Tyler is a finalist for Cybersecurity of Woman Leader of the Year 2021. She is relied on to provide unique insight into cyber threats, cyber warfare, mitigating cyber risk, national security, and ensuring industries have the tools and knowledge they need to defend themselves in the digital world.
"I've learned that as a woman, I must first empower myself, and then I can help empower other women."
Book: Catching the Catfishers: Disarm the Online Pretenders, Predators, and Perpetrators Who Are Out to Ruin Your Life (The Career Press)
Video:

---
36. Jane Frankland
Jane Frankland is an award winning leader, author, speaker and women's activist.  Having spent over 23-years in cybersecurity, she has become one of the top influencers in the world and been named as a UNESCO trailblazing woman in tech. Originally building her global hacking firm, and having served as an executive at some of the world's most well known consultancies, she has spent the last decade leading her next venture, KnewStart. There, she follows her passion of positively influencing women to join and remain in cybersecurity. Jane is well known as an awards judge, board advisor, C-level advisor, consultant, trainer, and best selling author. Being a popular keynote speaker, too, she regularly shares her expertise in the media, for example the BBC, The Guardian, The Times and The Financial Times. Her IN Security Movement, which follows on from her best selling book, has a community of over 1,000 members and in the past 2-years, Jane has enabled more than 205 women to receive her women's scholarship. Jane is currently writing her third book, and has just launched her unifying women's platform, The Source. You can find out more at https://jane-frankland.com.
Ignore big goals. Focus on the little ones that will take you to them.
Book: IN Security (It's distributed on Amazon & Waterstones amongst other places)
LinkedIn | Twitter | Instagram
---
37. Rachel Miller
Global influencer marketing, social media, and content marketing strategist. Listed as one of the Top 50 MarTech, Influencer Marketing, and B2B Marketing experts worldwide. Skilled community builder with a passion for influencer marketing, digital marketing, and social strategy. Excellent communicator who uses proven methods to increase community engagement and brand awareness through social media marketing and content marketing strategies.
---
38. Sabine VanderLinden
Sabine is responsible to create long-term sustainable impact by turning emerging threats into unfair advantages. De-risk corporate venturing for established market players via improved ways to partner, invest & build ventures through audits, opportunity validation & commercialisation using ecosystem building techniques working alongside emerging tech entrants. Co-designed, built & scaled Startupbootcamp InsurTech-London & Hartford-CT's InsurTech Hub, both leading InsurTech initiatives in Europe & the East Coast of the USA.
---
39. Janet Schijns
Janet Schijns is CEO and Co-Founder of JS Group, a high tech go-to-market consultancy dedicated to achieving results. She is the founder of the #digitalnormal movement in the industry driving profitable change in the partner community. Janet is a Top 10 CEO Disruptor 2021 (CIOLook), Top 10 Women in Technology 2020 (Analytics Insights), and was named Channel Influencer of the year in 2019 beating out a slate of nominees from the top tech firms in the world. She was formerly EVP and CMSO at Office Depot, Chief Channel Executive at Verizon, and ran the channel organization for Motorola Enterprise and Government.
She is a visionary and no-nonsense leader who through innovation and action-oriented plans drives tangible results. She is dedicated to the advancement of Women in Technology, founding her not for profit "Tech World's Half" in 2017 to address the issue of women dropping out of technology.
"We empower women when we allow them the freedom and flexibility to pick their own career path and then provide them with support they need to reach their goals".
---
40. Kristen Twining
Kristen is a 15-year veteran in the technology sales industry, with demonstrated success in building teams, large scale transformation and strategy, solution selling, acquiring new markets and accelerating growth. She has been widely recognized for her leadership, was named as one of Sales Hacker's Top Female Sales Leaders in 2020, and was most recently recognized as Industry Era's 10 Most Inspiring Women Leaders of 2021.
Kristen is the VP of Business Development and Mid-Enterprise/Inside Sales at FireMon. She also serves as the President of the Dallas Chapter for the American Association of Inside Sales Professionals (AA-ISP) and is a member of the Executive Advisory Board for the Sales Program at University Texas Dallas.
"Women belong in all places where decisions are being made" – Ruth Bader Ginsburg
Podcast: Sales Hacker, Lessons Field Sales can Learn from Inside Sales
Blog: It all started with Latin Dance
Book: Featured in Your Go-To Sales Advisor by Randy Siedl and Tony Jeary, chapter Inside Sales is the New Trend
---
41. Geeta Nayyar
Dr. Geeta Nayyar, M.D., M.B.A., is a nationally recognized leader in healthcare information technology, a physician executive, a frequently sought-after public speaker, and an author with unique perspectives that bridge clinical medicine, business, communications, and digital health.
---
42. Kamales Lardi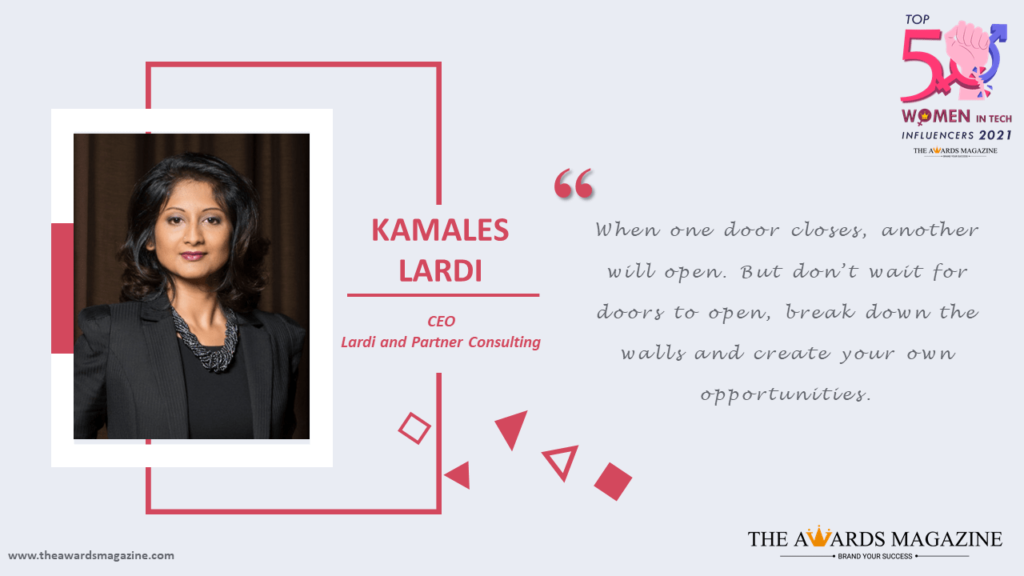 Kamales is a bold and strategic thinker in digital and business transformation. She combines over 21 years of deep cross-industry experience with the latest digital and technology solutions. Kamales is listed in the "Top 10 Global Influencers & Thought Leaders in Digital Transformation" (Thinkers360). She often says, 'technology is not a silver bullet solution, a clear value proposition should drive any transformation effort'. This approach resonates well with many business leaders and has helped her stand out in the digital space. Since establishing Lardi & Partner Consulting GmbH in 2012, Kamales has advised many multinational companies across various industries in Europe, Asia and Africa. Kamales is a Teaching Fellow and Chairperson of the MBA Advisory Board at Durham University Business School, UK, and she is the Chair of the FORBES Business Council Women Executives group. She is a dynamic and influential speaker and presents regularly at corporate and industry conferences.
''When one door closes, another will open. But don't wait for doors to open, break down the walls and create your own opportunities.''
---
43. Joanna Shields
Joanna Shields (Baroness Shields OBE) is Chief Executive Officer of BenevolentAI, the world leader in the development and application of artificial intelligence and machine learning to understand the underlying causes of disease, accelerate drug discovery and develop new medicines for hard to treat diseases. Before joining BenevolentAI, Joanna served as the UK's first Minister for Internet Safety and Security, a Special Advisor to the UK Government on the Digital Economy, and Chair & CEO of TechCityUK. During this time, she also founded WePROTECT, a global alliance to protect children from online abuse and exploitation.
---
44. Theresa Payton
Payton is the Founder and CEO of Fortalice Solutions. Named one of the Global Hot 150 Cybersecurity Companies to Watch In 2021 and one of the Top 5 Innovative Cybersecurity Companies in the Washington D.C. region, Fortalice Solutions is a boutique cybersecurity and intelligence services firm clients trust to provide discretion and superior service.
Payton began her career in banking technology where she quickly rose through the ranks to earn executive roles at both Bank of America and Wells Fargo. Regarded as an authority in her field, she was chosen to be the first female to serve as White House Chief Information Officer where she oversaw IT operations and security for President George W. Bush and his staff during a period of unprecedented technological change and cyber threat.
Never quit, never give up, and when you get to your goal, thank the people that paved the way for you and make sure you are paving the way for the people behind you.
Book: Manipulated: Inside the Cyberwar to Hijack Elections and Distort the Truth
---
45. Donna Marie Antoniadis
Donna Marie has over 30 years of experience in sales, business development, and marketing, with focus on the Internet industry since 1995 working with Yellow Pages to launch their first internet initiative, Shaw Cable to launch broadband access (yes from dial-up to broadband) the wireless industry since 2003 running the Mobile Marketing Roadshow and working with CTIA and Mobile Marketing Association and Social Media since 2006 when she launched ShesConnected.com social network for women and Blogger network.
---
46. Reshma Ramachandran
Reshma is currently Group Senior Vice President – Transformation for The Adecco Group and is based in Zurich. She is an award winning Innovative leader with 20 years' experience working in multi-cultural teams and geographies including the United States, Europe, the Middle East, India, and Southeast Asia. She brings a wealth of experience in digital & business transformation. Reshma coaches and mentors several young women that encouraged them to opt for STEM careers and minority ethnic groups to help them advance in their careers.
"If you accept a limiting belief, then it becomes the truth of you."
---
47. Katie Moussouris
Katie am the founder and CEO of a new security start-up company called Luta Security, where they specialize in helping businesses and governments work with hackers to better defend themselves from digital attacks.
She is a noted authority on vulnerability disclosure & bug bounties. I advise companies, lawmakers, & governments on the benefits of hacking & security research to help make the internet safer for everyone. I am a hacker – first hacking computers, now hacking policy & regulations.
---
48. Anna Dapelo-Garcia
Proven ability and cultural intelligence to help an organization to adapt to a diverse environment, ideas, and talent. Proven ability to lead highly effective teams, delivering innovative strategies to promote accountability and awareness, and make diversity and inclusion a priority, listening without judgment and seek to understand with empathy. She is an effective collaborator, empowering others, inviting a diversity of perspectives, and always fostering an environment of safety, engagement, and growth, both as a team and as an individual.
---
49. Hazlo Emma
Business Development, Digital Strategist & optimistic personal Coach in the Financial, Writing, and Social Media Space for Startup and Small Business entrepreneurs. I have a knack for numbers with an advisory role largely to a tech-averse clientele. As an inspiration to solopreneurs, newbies, founders, CEOs, and B2B enthusiasts, I challenge each one to impact their world, a step at a time with innovative strategies. I follow real-time trends in Tech, Small Business, Startup World, Social Media, Social Impact Matters, Leadership, Fin-tech, Big Data, Analytics, Robotics, IoT, Artificial, Human, and Hybrid Intelligence, in addition to answering questions on Quora!
Currently pursuing further studies in the security niche, as a team member at http://www.thextraordinarionly.com, we test affordable DIY innovative tips, tweaks, hacks, strategies, … that generate sales, improve ROI, engagement, branding, and share our experiences. Formatting, proofreading, copy editing, line editing, comprehensive and substantive editing manuscripts comes second nature to me, even ghost writing in the nonfiction genre.
Hold every other lady (girl or woman) in high esteem and help her create lasting memorable experiences consistently, with the delivery of excellent and faster results (both offline and online) for higher ROI, whilst exceeding expectations.
Blog: 77 Free Uplifting and Inspirational Quotes of the Day About Life to Motivate You During the Coronavirus Shutdown
Book: CRAWL OUTTA DEBT NOW: Five Secret Steps to Get Debt-Free Today Exposed – Successful Strategies of Wealth Creation, Victory Over Debt, and Money Matters
---
50. Chip Huyen
Chip Huyen is a writer, computer scientist and builds recommendation systems. She teaches Machine Learning Systems Design at Stanford. In her free time, she travels and writes. She is the author of four bestselling Vietnamese books and currently working on an English book on machine learning interviews.